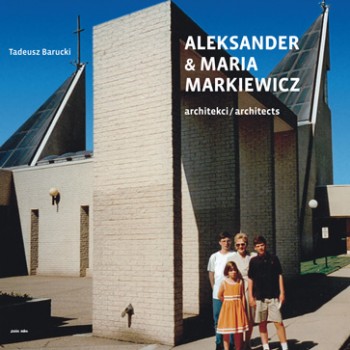 December 2014
Translation into English: Stefan Sikora, Ewa Kondracka
Paperback, 192 pages
Illustrations: 96 in colour and 72 black and white
Size: 21.5 x 19.5 cm
ISBN 978-83-930937-6-2
€ 24.00
A new title in a bilingual series of monographic studies by Tadeusz Barucki on the life and work of Polish 20th century architects. Maria and Aleksander Markiewicz, graduates of architecture from Warsaw Polytechnic, worked in Poland until 1963, when they left the country to permanently settle down in the United States. Between 1960–63 they were posted by the Polish state agency to work in Iraq, where their design for a Mosque in Baghdad attracted the attention of L'Architecture d'Aujourd'hui ; recently this practice has become subject of research carried out at the Universities of Zurich and Rotterdam on the contribution of the communist countries at the time of the Cold War into the modernisation of the so-called Third World countries. In the USA the Markiewiczes had to build their professional career virtually from a scratch, with Maria Markiewicz working for some time as a designer in Pipsan Saarinen's office, until they successfully established their own independent practice. Maria and Aleksander Markiewicz designed a number of private and public buildings, including the Performing Arts Centre of Oakland University, the Hotel Campus Inn at Ann Arbor, and the Polish Church of Our Lady of Częstochowa at Sterling Heights, all in the state of Michigan. The work of Mark Markiewicz and Daniel Markiewicz, the architects' son and grandson, who have continued into their professional footsteps, offers a conclusion to the history of their life and work.