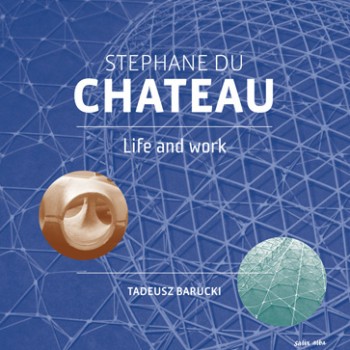 September 2013
(First edition in Polish, English and French:
Tadeusz Barucki, Stephane du Chateau, Warsaw: kanon, 1995)
Translation into English: Ryszard E.L. Nawrocki, Stefan Sikora
Paperback, 96 pages
Illustrations: 125 in colour and 49 black and white
Size: 21.5 x 19.5 cm
ISBN 978-83-930937-2-4
€ 18.00

A monographic study on Stephan du Chateau, architect and inventor of world-known tubular structures (the so-called constructions tubulaires), applied widely in 20th century architecture. Du Chateau was born in Siberia into a family of a Polish exile of French extraction and obtained French citizenship later in his life. Throughout his whole life he felt strongly connected with Poland and in 1994 thanks to his endeavours the Stefan and Krystyna Du Chateau Foundation of Culture and Polish-French Friendship was established in Hrubieszów, his Polish family home. Du Chateau joined the Polish army during World War II and after the war stayed in France, where he ran his own practice as architect and constructor, and taught architecture at École des Beaux Arts in Paris. The book tells the story of Stephan Du Chateau's life and his work is thoroughly documented with photographs and drawings of his designs and implementations, which included railway stations, airports, swimming pools, shopping centres, libraries, hotels and churches.