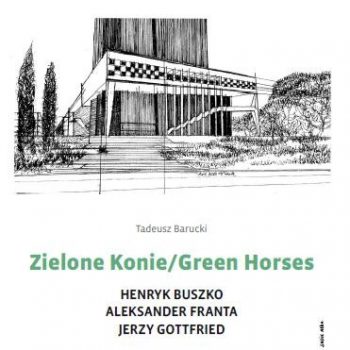 October 2015
Paperback, 104 pages
Translation: Stefan Sikora
Illustrations: 76 in colour and 33 black and white
Size: 21.5 x 19.5 cm
ISBN 978-83-930937-8-6
€ 14.00
First monographic study, published in a Polish-English edition, on the work of a team of three Polish architects, Henryk Buszko, Aleksander Franta i Jerzy Gottfried, who made a major contribution to post-war architecture in the Silesia region. Based in Katowice, they became known in professional circles as "Green horses", after the rebuke by a communist party ideologue. Buszko, Franta and Gottfried largely subscribed to the tradition of pre-war modernism and made their name as architects and urban planners of the Millenium Estate in Katowice with iconic "corn-cob"-type high-rise apartment blocks, the spa complex in a holiday resort of Ustroń Zawodzie, and the buildings in the Park of Culture and Recreation in Chorzów. These realizations are discussed in the context of the entire output of the team of three architects, who worked together from 1949 until 1958, and afterwards Henryk Buszko and Aleksander Franta continued as partners until 2000, while Jerzy Gottfried set up independent practice.